Home
About US
Products
Outer Banks
Outer Banks Pockets
Services
Embroidery
Screen Printing
Thermal Transfers
Order Form
We @ Polo Central.com, Inc. offer Quality Customized Embroidery for your Company, Organization or School.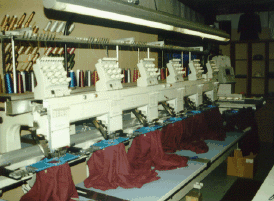 We have State-of-the-Art Embroidery Equipment and an experienced staff to assist you with any questions you may have. We offer Digitizing and Basic Letter Editing at very competitive prices, not to mention out clothing prices blow the competition away!!! If you are in need of Logoed Polo's for next Company Golf Outing, Trade Show, Seminar, Give-A-Way, or for Uniforms, Please let us help You Save Money!!!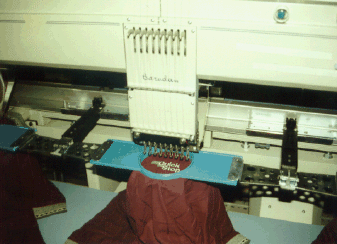 Digitizing is a term commonly used in the embroidery industry to describe the process of converting a design into a computer program that runs the embroidery machine. This process is also called punching, since an even older form of this process used paper tape with holes punched in it that was fed via tape reader into the machine.
Embroideries and their customers talk about "tapes" and "tape charges," though you rarely find anyone using the paper tapes these terms refer to. The industry has moved to 3-inch Floppy Disks or Computer Networks to transfer information to the embroidery machine.
Originally, an embroidery software design program was used with a digitizing board. By positioning and clicking the mouse, control points were plotted to define the areas where stitches needed to be placed. In defining these areas and applying the special functions needed (trims, color changes, etc.), the digitizer converted the art into stitches. The result was a series of digital commands that told the embroidery machine what to do.
In the past three to five years, there has been a sharp decline in the use of digitizing boards and increase in on-screen digitizing. While there are still many board digitizers in the industry, the term digitizer has become a misnomer. On-screen digitizing isn't really digitizing at all, but a hybrid of the process that uses vectors instead of plotted control points to define areas.
Call
Toll Free
(877) 399-5727